December 18, 2016


Business of Fashion /
Forty Five Ten: Downtown Dallas's New Cultural Totem


DALLAS, United States — "There's nothing like it anywhere else in the world," declared fashion guru Nick Wooster after spending a couple of days on Main Street, Dallas in the new incarnation of Forty Five Ten. In its old location at 4510 McKinney Avenue, the store has been catering with notable success to the appetites of Texan fashion aficionados for the past 16 years.

The ambition behind the move is reflected in simple square footage — from 8,000 on McKinney Avenue to 37,000 on Main Street — but there is so much more to the story than that. Thanks to the efforts of its visionary president and co-founder Brian Bolke, Forty Five Ten was already a cultural totem in Dallas. Now it's also a banner carrier for the renaissance of the city's downtown district. And, as Nick Wooster notes, it's doing it with such impressive style that it would be a sterling addition to the downtown of any of the world's more readily acknowledged fashion capitals.

He could claim bias. Wooster is, after all, the newly appointed men's fashion director for Forty Five Ten, one of a powerhouse team that Bolke has brought in to drive the business forward. And yet, even the most casual visitor should be able to sense the clear, confident voice of experience that gives the store its very particular personality. You hardly need to read another doomy piece about how fashion retailers are floundering in their efforts to hold onto their customers — never mind attract new ones — to recognise that Forty Five Ten is something special.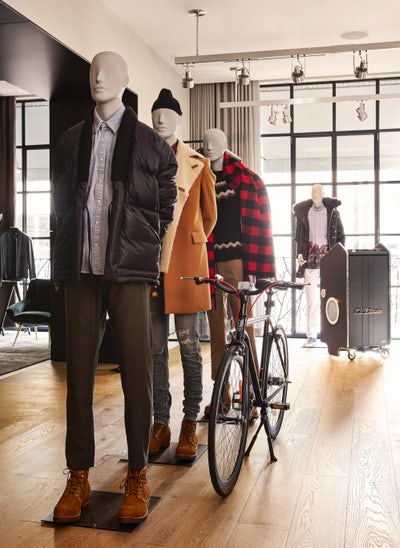 Forty Five Ten's menswear department | Source: Courtesy


There's a salutary reminder right across the road in the form of Neiman Marcus's flagship store. Once upon a time, the oil tycoons, cattle barons and their wives would fly into town, set themselves up at the Adolphus Hotel, walk a few blocks up Main Street and shop till they dropped at Neiman's, which was almost an international byword for a 360-degree retail experience, again thanks to a visionary founder, Stanley Marcus.

In those days, the downtown core was vibrant. Dallas itself was a nexus between all points of the compass and — at least until the 1950s — probably one of the most sophisticated cities in the country. A solid trace of former glories lingers on in Fair Park, which was the site of the Texas Centennial in 1936. You won't find the likes of its 180 acres of perfectly preserved Art Deco art and architecture anywhere else in the US.

But times change, booms go bust, downtowns die. Dallas's incredible urban sprawl, west to Fort Worth, north to Plano, took the spotlight elsewhere. As Main Street lost its lustre, the Neiman's flagship became a solitary grand old lady, beloved but moribund, while the city itself was wrestling with other perception problems.

"When I moved here from California 25 years ago, people looked down on Dallas," says Bolke. "That TV show was so popular internationally. Then there was JFK and the Dallas Cowboys, and that was about it." The crowds of tourists lingering at every plaque on the tragic waystation of Dealey Plaza testify to the durability of one of those clichés.

But when the Joule Hotel's promotional literature proudly declares "You're bound to discover Dallas is more than cowboy boots and hats," it's also testament to the durability of the others. Chanel's Metiers d'Art whistle stop in December 2013 craftily mutated the big country clichés. That spectacular was, from all accounts, a recent watershed in the sense of self that Dallas exudes.

Another was the re-opening of the Joule in 2004. This neo-Gothic hotel, built in the 1920s is the fountainhead of the downtown Dallas revival. Developer Tim Headington made his billions in oil and natural gas, but he was clearly nursing very different dreams. In addition to his real estate holdings, he's also a film producer (Scorsese's "Hugo" was one of his) and a very engaged philanthropist in a city that seems to have no shortage of them.

Like any successful entrepreneur, Headington identified a need. Dallas has never had a lobby culture in its hotels, a place where people could meet and feel comfortable hanging out. "I find myself always coming down to the Joule now," says literary agent Jan Miller. "I want to live here. It's changed everything." Headington's underwriting of Forty Five Ten, across the street from the Joule, makes it a double whammy on Main. The businesses clearly share an aesthetic sensibility.
Forty Five Ten's womenswear department | Source: Courtesy
Given that, at the new location, 4510 is no longer a street number, Bolke has given the name a spin: four seasons, five senses, 10 edits — 10 of the best white shirts, for instance. He's used to satisfying a demanding client. "The bar for fashion here is set so high. Everyone is travelling everywhere. They're the best clients of every other city in the world. Their attitude is 'I can get anything anytime.' But now there's a shift. You have to give them what they want when they want it. We also have to break the markdown cycle, which has been created by department stores."
Obviously, one way to do that is to emphasise the unique. The first sale on the first day was a Valextra bag so huge that Bolke imagined it would eventually devolve into a display element for the store. Next sale? One of Takashi Murakami's massive fur bags for Louis Vuitton. Exclusives obviously matter — 80 per cent of Forty Five Ten's designers are unavailable anywhere else in Dallas, or in the entire region for that matter.
Bolke and his original partner, the late Shelly Musselman, built their reputation through their editing, the best of the best, price be damned. So another of Bolke's new hires is suggestive. Taylor Tomasi Hill, ex-fashion editor, Moda Operandi creative director and, like Wooster, a street style darling, intends in her role as women's fashion director and vice-president of creative, "to make sure we have attainable fashion, the $65 t-shirt as well as the $35,000 cashmere coat from The Row." While she agrees that women in Dallas take more risks than their counterparts north or west, she has also noticed how they're tending to buy five pieces from American designers they can wear in multiple ways, rather than one piece from Europe. "So people like Gabriela Hearst, Adam Lippes, Adeam and Rosie Assoulin are taking more budget because they're selling."
Forty Five Ten has its grand launch on December 7, but it opened to the public this past weekend. Donna Karan made a personal appearance with her Urban Zen collection, which was personal for Bolke given that one of his first big jobs in fashion 25 years ago was the design of the Karan boutique in I. Magnin in Beverly Hills. At the lunch he hosted for Karan, a couple of dozen Forty Five Ten stalwarts got their first look at the new store. Bolke admitted he was surprised by their reaction when he announced the move two years ago. "I was thinking everyone would be thrilled. Instead, I heard 'I won't see all my friends,' and 'I don't know how to get to downtown.'"
"He's not about all the things that drive stuff in Texas, like sizing things up and maximising out the square footage."
If that's a measure of how marginalised the district had become, it's also a common enough plaint from customers anywhere who get nervous when their own little shopping Shangri-la hits the really big time. Financial advisor Sharon Young, impeccable in a Derek Lam pantsuit, voiced a concern. "On McKinney, there was always someone to welcome me with my coffee and the exact number of Splendas I like in it." In other words, she was worried that a degree of deal-sealing intimacy would be lost.
Bolke has his answer ready. The footprint of the second floor on Main, where the womenswear is housed (accessories and beauty are first, menswear, home and an Assouline bookshop are on third and the fourth floor will be a restaurant and special event space), is 100 by 80 feet, exactly the same size as the old 4510. Anchored by four "corners" — Alaia, Celine, Marc Jacobs and Maison Margiela — it preserves and rewards the sense of discovery that originally made loyalists of the women at Karan's lunch. Architect David Droese clearly wrote intimacy into the blueprint. Working with Tim Headington made that easy. "He's not about all the things that drive stuff in Texas, like sizing things up and maximising out the square footage," says Droese. "We created smaller spaces, intimate boutique areas."
Forty Five Ten's Alaïa corner | Source: Courtesy

Paradoxically, given its size, it's the same spirit that makes the look of Forty Five Ten, inside and out, so instantly striking. The dark brick exterior could have been part of the urban landscape for decades (so much so that there are still locals who believe it was a renovation, not a new build). For the interior design, Bolke wanted all the furniture and textiles to come from Knoll. "One of the very few places where the best of design happens to be American," he explains. "And made in America." That not only unifies the interiors, but makes the spaces feel like you're in someone's chic but comfortable apartment. It's the kind of emotional reaction that has been Bolke's yardstick since he and Musselman first visited 10 Corso Como in Milan during the 1990s. "It was so inspirational," he recalls. "I'd never seen anything like that kind of curation. It was about a feeling, with all the elements — womenswear, menswear, home, art — drawn together by a strong point of view."

It's certainly another drawcard for Forty Five Ten that I'd be happy to have on my walls the pictures on their walls. Art advisor John Runyon currently has on display the 50-image portfolio that Catherine Opie made of the contents of Elizabeth Taylor's Beverly Hills home before she died. It's a sly, rather witty counterpoint to the merchandise. And I doubt that it was intended as such but it's a reminder of one ongoing, underlying thrum in the conversation. Is Dallas the new LA? And how much does that account for its allure?

"There's no state tax, so you've got big companies like Toyota relocating here," says Bolke, ticking off the city's assets. "We don't have natural disasters like other places. We have the most accessible airport in the world. You can fly non-stop anywhere except Moscow and India. And, on a philanthropic and cultural level, our arts district is unrivalled."

True, the Rem Koolhaas theatre, the I.M.Pei symphony centre and Renzo Piano's design for The Nasher Sculpture Centre make an impressive clutch of starchitecture. Even the Dallas Cowboys' stadium has amassed a spectacular art collection. "The art world is collaborative here," says John Runyon. "Not competitive like Miami," (which, say Dallasites, will soon be underwater anyway). Twelve years ago, when the city's three biggest collectors donated their collections to the Dallas Museum of Art, the international art world sat up and took notice. Well-endowed institutions attract the interest of others less blessed. "Now, we have more and more museum boards from other cities coming through," says Runyon.

Suddenly, I feel like I'm sounding as though I've been bought and paid for by the Dallas Tourist Board. It's hard not to when confronted by the civic ingenuity that is transforming the city. Never mind the intelligent, creative train of thought that has created the attractive little oasis that's forming on Main. Over the road from the Dallas Museum of Art is Klyde Warren Park, launched in 2012 as a much-needed green space for the city. Laid over a freeway, it's a bridge between the Arts District and the uptown neighbourhood. That they were once so separate seems bizarre to an outsider. It's scarcely a five-minute walk from one to the other. But the mere fact that the option even exists now has transformed this part of Dallas. Just like driving "downtown" for all of 11 minutes no longer seems like such a horrifying proposition for Forty Five Ten's clientele.

Building bridges — it's what America desperately needs now. I was in Dallas two days after the election. When I left London, Texas was showing as undecided in electoral maps published by the British media. "You could see Texas going Democratic," Bolke said wistfully. "Dallas has a very liberal tradition. We've had a black Democrat for a mayor." But, from what I could tell, people held their noses and voted Republican. "Our customers are very liberal socially but very conservative financially," Bolke conceded.

On Friday, an hours-long parade edged its way up Main Street to honour Veteran's Day. When night fell, another parade, much younger and stridently anti-Trump, marched down Main in the opposite direction. The same generational schism that will make this Thanksgiving torture for families across America was right out there on the street for everyone comfortably ensconced on the terrace of the Joule's Americano restaurant to see.

It's unlikely Brian Bolke and his husband Faisal Halum, a hugely successful realtor, will ever be poster boys for Trump's — or more likely Pence's — America, however much their stories embody the traditional American Dream. But Forty Five Ten plays on a wider stage. "Dallas is an ecosystem and Brian's a big part of it," says Runyon. "There's a tremendous pride in community here."

Which is why the store strikes such a positive chord for fashion at a time when death knells have been more in style. And which is why the whole downtown Dallas scenario is an inspirational urban model. All it takes is one entrepreneur with very deep pockets, another with a passionate vision, both with a huge sense of civic responsibility and presto! What was it Nick Wooster said? Oh yes, there's nothing like Forty Five Ten anywhere else in the world.

Tim Blanks travelled to Dallas as a guest of Forty Five Ten.

Written by: Tim Blanks

Originally posted in Business of Fashion.